Best Weed Pens of 2023: Top 6 THC Vape Pens for On-the-Go Relaxation
PAID POST BY ORIGINATED MEDIA
Vaping major cannabinoids such as THC ensures you get fast-acting effects to support pain, stress, and anxiety issues. And with the best weed pens, you can get these effects in a portable device to suit your lifestyle.
Pax

Potent Hits

Anti-Clog System

Rechargeable

Multiple Colors

Check Price
CBDfx

Disposable Pen

Indica Effects

Full-Spectrum CBD

Air-Draw Activation

Check Price
TRĒHouse

Strong THC Effects

Organic Hemp

800 Puffs/Pen

Rechargeable

Check Price
You can guarantee the perfect purchase for your wellness needs by reading our guide to the best hemp-derived THC vape pens. Here we feature the best devices for all types of users, provide expert tips on making the most of your purchase, and help you understand the dos and don'ts for the ultimate THC experience.
6 Best Weed Pen Options
1. Best Overall – Pax Era Vape Pen
2. Promotes Relaxation & Calm – CBDfx THC Vape
3. Ideal for Intense Wellness Needs – TRĒHouse Live Resin + THC-P Vape Pen
4. Non-Electric Vape Pen – DynaVap "M" Plus
5. Perfect for Daytime Use – Secret Nature Disposable THCA Vape
6. Budget-Friendly Option – Serene Tree Disposable Delta-9 THC Vape
Best Weed Pens Reviewed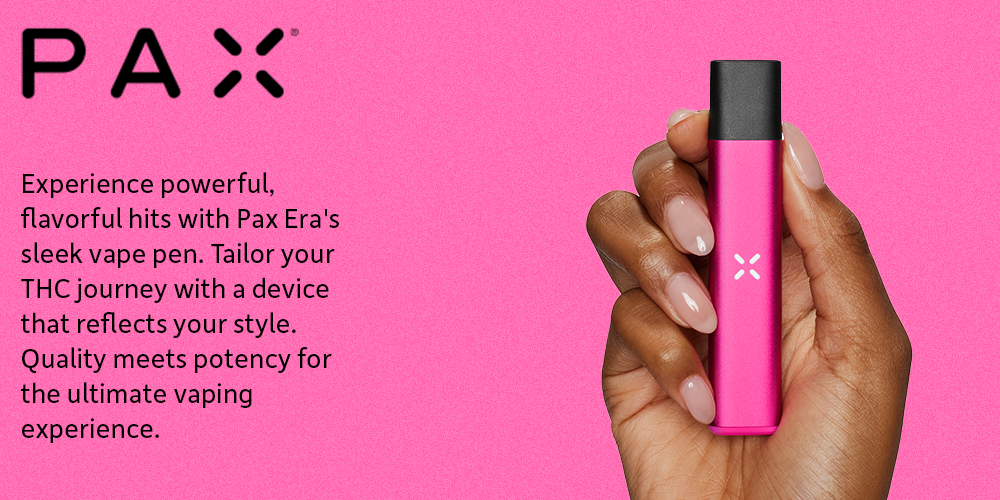 Pros:
Bigger, more potent hits than other vape pens
Anti-clog, air-activated draw system
Rechargeable, portable, & discreet
Multiple colors & customizations are available
Cons:
Pods for devices sold separately. Check the site for delivery options.
Pax Era Vape Features
This pocket-sized device is designed to heat pods containing concentrated cannabis oil to provide more flavor and power in each hit. The air-activated draw system ensures you can get your THC vape pod's full potential without worrying about clogging.
Color options include pink, green, blue, and black, with options to customize your vape pen with further details like text, images, designs, and logos. With a personalized THC oil pen to reflect your style and mood, any prefilled pod you connect to your Pax Era device is sure to become an even more enjoyable experience.
Pax Era Vape Benefits
With a design that gives you more powerful, flavorful hits than traditional vape pens, this THC vape benefits those who only need a few hits to get the desired effect and makes it effortless for frequent users who want large amounts of vape in one session.
Additionally, the prefilled pods sold separately from the device come in an array of options, including relaxing, uplifting, sleep-supporting, and pain-relieving strains. With Pax's commitment to quality in formulation and extraction, you can get the maximum benefits of THC without sacrificing taste or potency.
Why We Picked This Weed Pen
Large, potent hits that use clean THC oil make the Pax Era Vape Pen one of our top choices. Furthermore, the loads of accessories you can add to every order make it an ideal choice for those who want to maximize their THC experience with a device that can be customized and tailored to your lifestyle.
Pax Era Vape Specs
Device Type: Rechargeable battery
Compatibility: Pax prefilled pods containing cannabis oil
Color Options: Pink, green, blue, and black with the option to customize
Best For: Frequent & occasional users looking for quick, potent effects
2. Promotes Relaxation & Calm – CBDfx THC Vape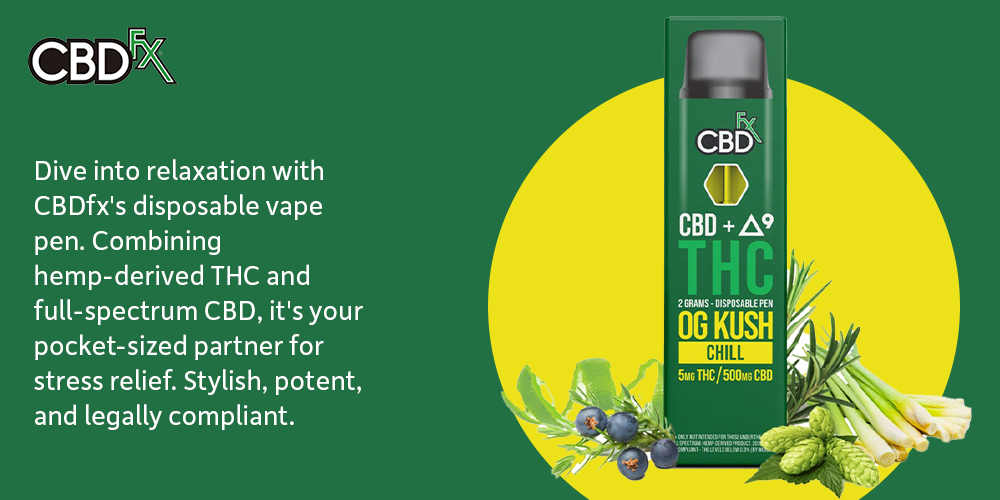 Pros:
All-inclusive, disposable vape pen
Relaxing Indica effects
Enhanced with full-spectrum CBD
Legally compliant THC levels
Cons:
Charging cable not included
CBDfx Vape Features
This miniature weed pen contains 5mg of hemp-derived THC and 500mg of full-spectrum CBD oil to create soothing and relaxing effects. The weed pen is easy to use, only requiring you to remove the protective packaging and start puffing away on its air-draw-activated mouthpiece.
The 2mL tank is good for hundreds of hits, and the ceramic coil ensures that each one is smooth and flavorful. Because the CBDfx device is rechargeable, you'll never have to worry about running out of battery life before you get every drop of delicious OG Kush strain goodness in the vape.
The deep green color and viewing window create a stylish, premium look that is still discreet and portable for on-the-go use. And since this is a disposable THC vape, when you do eventually run out, you do not have to fuss with messy refills; just open up a new one, and you are ready to go.
CBDfx Vape Benefits
The potent combination of THC and full-spectrum CBD oil makes this weed pen an excellent choice for any occasion where you want to destress or take the edge off without feeling weighed down.
Additionally, the entire device contains less than 0.3% THC, meaning you can enjoy a powerful vape experience without any legal worries associated with marijuana use in your location.
Why We Picked This Weed Pen
We chose this disposable vape pen because it's light and portable, has a stylish design, and its 5mg of THC helps produce a nice mellow feeling without any anxiety or paranoia that can come with stronger concentrates.
CBDfx Vape Specs
Device Type: Disposable, rechargeable
Compatibility: Comes prefilled with hemp THC & CBD oil
Color Options: Deep green
Best For: Occasional & frequent users looking for relaxation and calm with Indica strains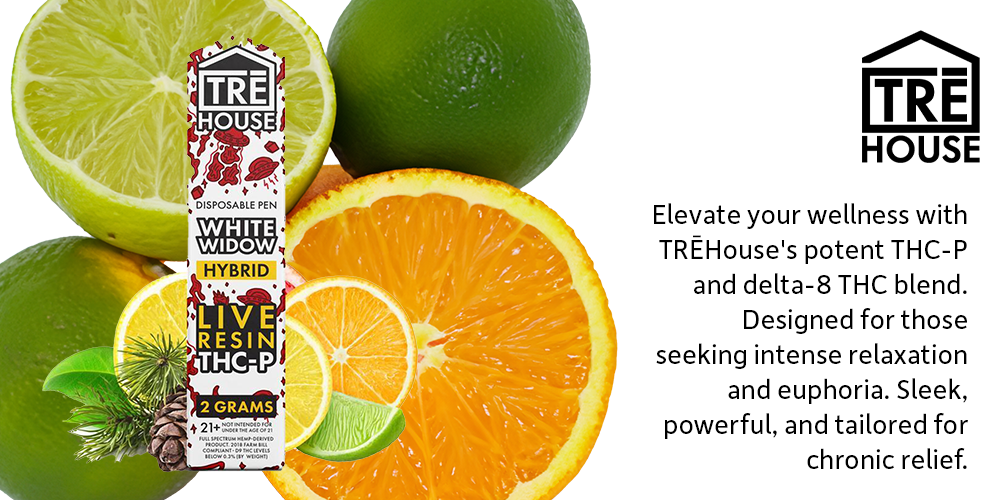 Pros:
Potent, noticeable THC effects
Derived from organic hemp plant cannabinoids
Approximately 800 puffs per weed pen
Rechargeable & disposable design
Cons:
High price point for free shipping
TRĒHouse Live Resin + THC-P Vape Pen Features
This elongated yet discreet weed pen contains a derivative of tetrahydrocannabinol called THC-P. A potent cannabinoid known to create effects more intense than its delta 9 counterpart, this weed pen is sure to meet the wellness needs of anyone suffering from intense, chronic conditions.
In addition to the hefty dose of THC-P, the vape pen also contains 2000mg of delta-8 THC. Derived from hemp cannabinoids, the addition of this mild compound ensures that your THC experience isn't too overwhelming.
Available in a sleek black design that features the golden live resin expertly extracted from the White Widow strain, this TRĒHouse vape pen looks as good as it performs when it comes to delivering intense THC effects.
TRĒHouse Live Resin + THC-P Vape Pen Benefits
The combination of delta-8 THC and potent THCP in this vape ensures that users get a smooth yet strong experience lasting for hours. Specifically, THC-P is known to create a strong euphoria with intense relaxation, perfect for anyone looking to reduce chronic pain or relieve stress.
And while the effects are supported by the mild stimulation of delta-8 THC for a better overall sense of well-being, the taste and aroma of the White Widow strain add a delightful, delicious touch to every puff.
Why We Picked This Weed Pen
It has an appealing design with up to 800 puffs per session, and its effects are sure to satisfy even the most seasoned cannabis user. For this reason and the brand's dedication to using cleanly extracted cannabinoids, we chose this weed pen as one of our top picks.
TRĒHouse Live Resin + THC-P Vape Pen Specs
Device Type: Disposable & rechargeable weed pen
Compatibility: Prefilled and no other components are required for use
Color Options: Black
Best For: Anyone looking for intense effects and relief from chronic pain or stress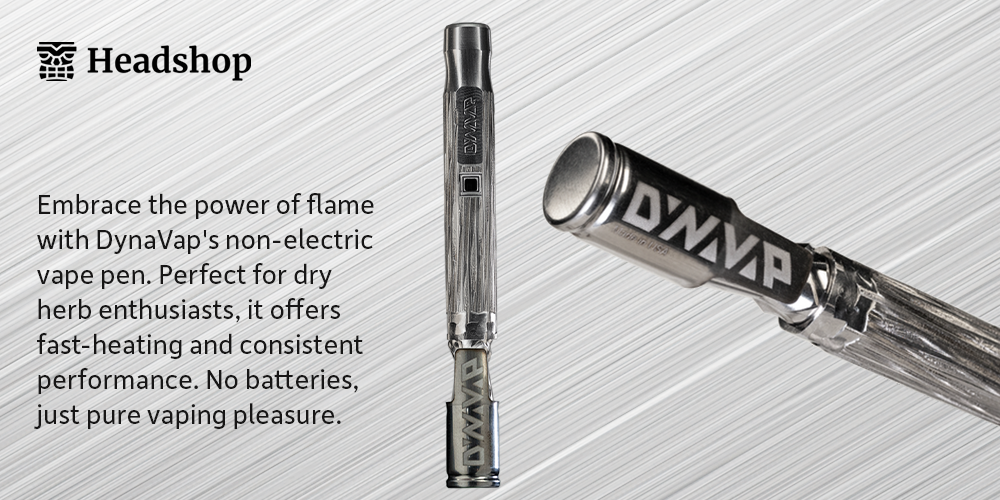 Pros:
Suitable for dry herb & concentrates
Great for micro-dosing & complete extraction
Fast-heating with no battery needed
Can be used with other smoking accessories
Cons:
May need to refill more frequently than other vape pens on this list
DynaVap "M" Plus Features
This non-electric vape pen is perfect for anyone looking to get the most out of their dry herb or concentrate. The unique design of this device features a stainless steel body and thermochromic tip, which heats up quickly with any butane torch lighter.
A more pronounced airport allows for better control, ensuring each puff is smooth and pleasant. Plus, the vapor path is designed for maximum taste retention, creating a delicious flavor profile with every use.
You can use this weed pen on its own or combine it with other smoking accessories like a water pipe for smoother hits. This versatility makes it great for microdosing or complete extraction, depending on your needs.
DynaVap "M" Plus Benefits
The main benefit of this weed pen is the lack of battery needed to power it up. That way, you don't have to worry about charging or messy refills. All you need is a butane torch lighter, and you're ready to go.
Plus, the heat-responsive tip ensures fast heating and consistent performance with every use. That way, you can get the most out of your herb or concentrate without worrying about uneven vapors or low temperatures.
Why We Picked This Weed Pen
The ability to get your favorite THC effects without the need for a battery is something we appreciate. That's why we chose this weed vape pen as one of our top picks – it offers excellent performance with no fuss and mess.
DynaVap "M" Plus Specs
Device Type: Flame-powered, refillable
Compatibility: Compatible with dry herb and concentrates
Color Options: Stainless steel
Best For: Anyone who prefers vaping their own THC flower or concentrates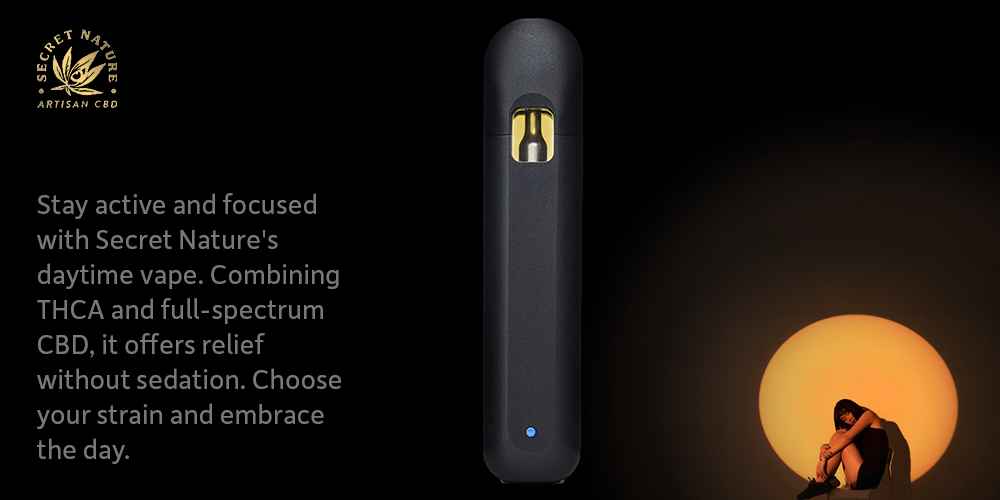 Pros:
Non-sedating THC profile
Legally compliant in all 50 states
Multiple strain options
Incredible pain & stress-relieving effects
Cons:
Remaining power level can be tricky to gauge
Secret Nature Disposable THCA Vape Features
The rounded geometric design of the weed pen holds a premium live resin extract containing THCA and full-spectrum CBD. While separately, these compounds have their own benefits, combining both creates an incredible effect that supports the needs of daytime vapers.
What's more, these disposable vape pens are available in Sativa, Indica, and hybrid strains, meaning you can choose the perfect cannabinoid profile based on your particular daytime wellness needs.
Each vape is disposable, and while they aren't rechargeable, they do have a battery life guaranteed to be above average. Additionally, thanks to the large viewing window, you can always tell how much live resin is left.
Secret Nature Disposable THCA Vapes Benefits
The main benefit of this weed pen is its non-sedating THC profile ideal for daytime. That particular benefit results from the THCa, a raw form of delta 9 that doesn't have the same psychoactive properties. As a result, it can provide relief without compromising your ability to go about your normal daily activities.
Plus, the full-spectrum CBD in this pen helps to reduce pain and inflammation while also supporting focus and clarity, making it perfect for anyone needing to stay productive throughout their day.
Why We Picked This Weed Pen
Feeling like you are high can be a benefit for some, but when it comes to daytime use, it's often a hindrance. By combining THCA and full-spectrum CBD, Secret Nature's disposable THC pen gives you the relief you need without worrying about being too high or sedated.
Secret Nature Disposable THCA Vapes Specs
Device Type: Disposable
Compatibility: Prefilled and no other components are required for use
Color Options: Black
Best For: Anyone looking for daytime relief from chronic pain or stress
Learn more about Secret Nature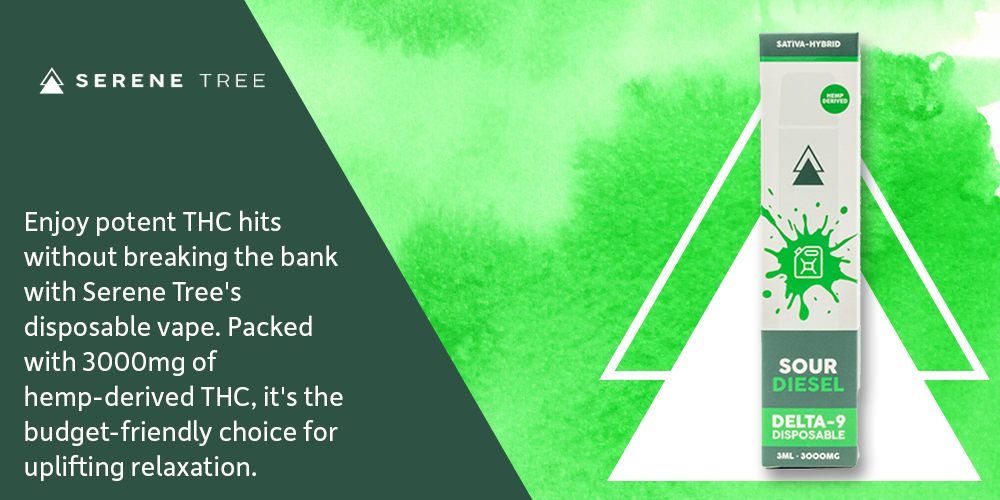 Pros:
High-potency weed pen
Large 3 gram tank
No need to recharge
Button-controlled power system
Cons:
Not available to residents in all 50 states
Serene Tree Disposable Delta-9 THC Vape Features
This disposable weed pen comes packed with 3000mg of hemp-derived THC extract, providing a potent hit ideal for those who love vaping but can't afford to buy new devices regularly.
The vape houses a 3mL tank and smooth-hitting ceramic coil technology to ensure its natural hemp flavor consistency in each puff. The button-controlled power system guarantees this disposable weed pen won't run out of power before the tank empties, and the brand promises no recharge will be needed.
The ergonomic black mouthpiece and glossy forest tone make it look and feel like a high-end vape pen, while its budget-friendly price tag makes it an affordable option for those looking to get the most bang for their buck.
Serene Tree Disposable Delta-9 THC Vape Benefits
While saving money on high-quality THC vape oil is always a great thing, the potent Sour Diesel Sativa blend makes this weed pen super beneficial for budget-conscious vapers wanting powerful, uplifting, mood-boosting, and pain-relieving effects.
Additionally, with a rich terpene profile that enhances the natural flavor while providing powerful antioxidant effects, you'll be able to enjoy more comprehensive overall well-being without having to buy multiple hemp-derived supplements.
Why We Chose This Weed Pen
Everyone deserves the power of potent hemp-derived cannabinoids, and this disposable THC oil pen from Serene Tree provides just that. With easy-to-use power-saving features and a giant tank for lasting enjoyment, this budget-friendly weed pen is an ideal companion for anyone looking to enjoy high-quality THC oil without breaking the bank.
Serene Tree Disposable Delta-9 THC Vape Specs
Device Type: Disposable
Compatibility: Prefilled and ready to use right out of the box
Color Options: Glossy black & green
Best For: Those looking for a budget-friendly vape pen with potent effects
How We Picked the Best THC Vape Pens
The criteria that guided our search for the best THC vape pens was based on many factors, with hemp sourcing and manufacturing processes at the top of the list. With THC oil for weed vape pens requiring such a precise and delicate process, selecting only brands that source their hemp from certified organic farms and using third-party lab testing to ensure the purity and potency of each product was paramount.
We also looked at the quality of design features that could make using weed pens a positive or negative experience. We avoided devices with less than great battery life, tanks that leaked or were difficult to fill, and those with unsatisfactory airflow.
Finally, we considered our experiences and genuine user reviews to determine if a product was worth it. At the end of our research, the six weed pens above stood out for their exceptional THC oil, design features, and reliable performance. We are confident that incorporating one or all of these THC pens into your daily routine can provide you with the relief and relaxation that only high-quality THC oil can provide.
How to Find the Best Weed Pens for Your Needs
When shopping for the best weed pen, it's essential to consider not only the THC oil inside the device but also its design features and battery life.
It is also key to ensure that you buy from a reputable brand that sources its hemp from certified organic farms and uses third-party lab testing on all its products. Doing so can help you rest assured knowing you're consuming pure, potent cannabinoids with each puff.
When it comes to concentration and potency, every individual's needs are different. If you're new to vaping, it's best to start with lower-concentration THC oil and work your way up as needed. Additionally, read through product descriptions carefully to ensure the weed pen contains the type of hemp extract that best fits your needs.
It is also wise to consider the style of vaporizer pen you prefer. Disposable weed vape pens are ideal for those who don't want to worry about purchasing additional components, cleaning, or recharging, whereas traditional vape pens offer more control and customization options.
Lastly, check out user reviews to get an idea of other people's experiences with a particular brand or model, as many vapers share common wellness experiences that can provide helpful insight.
Overall, finding the best THC vape pen depends on your needs and preferences. Taking the time to research different devices and thoroughly reading product descriptions can help you make an informed decision when it comes to selecting a device that fits your lifestyle.
Benefits of THC Vape Pens
The benefits of vaping THC oil consuming it are numerous, but have mostly to do with bioavailability. Vaping provides greater absorption into the bloodstream, so you get more intense effects faster than with edibles or sublingual drops.
The convenience factor is also worth noting, as vape pens require little to no preparation or setup, making them ideal for discrete, on-the-go use. Additionally, compared to combustible smoking tobacco and marijuana, vaping reduces the amount of butane, heavy metals, and carcinogens released from lighter fluid.
But it isn't just the cool design of vape pens that makes them such a benefit for those looking for relief; it's also what's in them.
Common hemp-derived THC oil products such as tinctures or edibles often only contain a basic extract designed to provide general relief for acute or chronic wellness conditions. However, a THC oil pen often contains much more complex cannabinoid profiles, giving users access to a larger variety of plant extracts and, therefore, wellness benefits.
For example, a weed vape pen with live resin oil infusions contains terpenes that provide an array of additional effects, such as enhanced flavor and aroma, improved oxidative stress protection, and greater well-being. Additionally, these live resin formulas usually include potent full-spectrum CBD profiles to provide longer-lasting, more comprehensive relief.
Weed vape pens containing distillate oil are another excellent option for those looking to experience more pronounced and faster-acting effects. Distillates are produced by removing nearly all other cannabinoids, terpenes, and plant matter from hemp extract, leaving behind a higher concentration of THC in the resulting product.
This makes a distillate THC oil vape pen ideal for those who need extra powerful effects but do not necessarily need the additional wellness benefits that come with more complex cannabinoid profiles.
How to Use THC Vape Pens
Using a flower or THC oil pen can be pretty easy, but it depends on your device type. All you need to do for pre-filled disposable weed pens is remove them from the packaging and start vaping.
For more complex devices with adjustable power output settings, temperature controls, and refillable tanks, some additional steps need to be taken before vaping. We recommend reading your user manual as every vaporizer is different, but the general steps to use a vape pen are as follows:
Charge your battery
Connect it to your device and press the power button; this will turn on the atomizer
Set your desired temperature or wattage depending on what kind of weed vape pen you have
Fill up the tank with your THC oil or flower of choice
Take a slow, long draw and enjoy
Whether you use pre-filled THC oil vape pens or refillable devices, the basic steps to using them remain relatively consistent across all models. And with these helpful tips and tricks in mind, you should be able to safely and effectively enjoy your favorite weed pen without any hassle.
When it comes to dosing with the device, usage instructions start to vary. Generally, THC oil vape pens have a set dosage, and it is recommended to take slow draws until you know how your body responds to the device.
For flower vape pens, inhaling for 3-4 seconds at a time usually provides enough for most users, but advanced devices can allow users to customize their puff lengths and intensity as desired.
Remember that vaping is not like smoking and can take some time to get used to — this is especially true when it comes to dosing. So, take your time and start off slow until you understand the effects of vaping on your body.
Types of THC Vape Pens
Prefilled THC vape pens
A prefilled THC vape pen can be disposable, rechargeable, or both. The best part about these weed pens is that they are already filled with your favorite THC oil, and all you need to do is remove the packaging and any protective caps before vaping.
Beyond the convenience, a prefilled THC vape pen offers a consistent experience in terms of cannabinoid delivery and reliability. As such, they've become the go-to choice for anyone who knows they need THC oil but finds refilling and maintaining their weed vapes a hassle.
Refillable THC vape pens
Refillable weed pens offer the added benefit of switching out different flavors, strengths, and types of THC oil or flower without needing to purchase a new device. These weed vapes can be electric or battery-powered, and they can be compatible with prefilled cartridges or directly filled with THC oil, depending on the model.
Refillable vape pens are great for anyone looking to customize their experience or save money in the long run by using the same device for multiple flavors of THC oil. Most refillable vape pens also come with a wide range of adjustable settings that allow you to tweak your vaping experience, giving you the right level of hit and flavor that sends you into bliss and relaxation.
Potential Side Effects of Vaping THC
Vape products are much newer to the market than other types of hemp-derived products, but the general scientific principles that operate in the body when vaping THC are similar to other hemp-derived supplements.
Some side effects are to be expected since THC is an intoxicating compound. Typically, side effects of vaping THC include dry mouth and eyes, as well as feelings of euphoria or anxiety in some users. Additionally, some people who vape THC products have reported rapid heartbeat and dizziness.
While some of these side effects may sound alarming, they are often minor, subsiding quickly and leaving the user with a pleasant experience. Generally, side effects will become more pronounced at higher dosages, so moderation is key when vaping THC products for optimal results.
Ultimately, as long as you use THC weed vapes from reputable sources committed to providing safe and reliable hemp-derived products, you should have an enjoyable and worry-free experience.
Frequently Asked Questions
1. Can you buy weed vape pens in bulk?
Yes, many reputable retailers offer bulk discounts on their weed vape pens, allowing you to get the best value for your money. Some vendors also have subscription auto-ship options that regularly deliver THC pens to your door so that you never have to worry about running out of supplies. As a bonus, these subscription options include many perks, like more significant discounts or free shipping on all orders.
2. Which THC vape pen is best for managing pain?
To manage pain, it's best to look for weed vape pens containing full-spectrum THC oil. This type of oil will provide the benefits of CBD and other cannabinoids in addition to the effects of THC, making the experience more effective and pleasant. You may also benefit from pure THC oil distillates derived from hemp plants to manage more chronic, intense pain.
3. Are THC vape pens legal everywhere?
Only a THC oil vape pen containing hemp-derived compounds is legal for sale without a prescription or medical license in the USA. That said, individual state regulations vary depending on the THC type and concentration, so it's best to check the local laws in your area before purchasing and using THC vape pens.
Buy the Best Weed Pens
The best weed pens do more than provide a reliable source of THC; they offer the perfect dose of cannabinoids to ensure your experience is safe and enjoyable. But always remember that the secret to getting the most out of your vape session lies in finding the right device with features that fit your needs and preferences. So, check out our top-rated THC weed pens for guaranteed satisfaction and enjoy the best vaping experience possible!
Summary of the Best Weed Pens
1. Best Overall – Pax Era Vape Pen
2. Promotes Relaxation & Calm – CBDfx THC Vape
3. Ideal for Intense Wellness Needs – TRĒHouse Live Resin + THC-P Vape Pen
4. Non-Electric Vape Pen – DynaVap "M" Plus
5. Perfect for Daytime Use – Secret Nature Disposable THCA Vape
6. Budget-Friendly Option – Serene Tree Disposable Delta-9 THC Vape
Related Content
This article has been supplied by Originated Media, a paid advertiser. The editorial staff of Chicago magazine had no role in this post's preparation.