Best Mattress for Heavy People: Top 5 Mattresses with Extra Support
PAID POST BY ORIGINATED MEDIA
In the pursuit of finding the perfect night's sleep, the right mattress can make all the difference, especially for those who are on the heavier side. Just like shoes that provide proper support are crucial for a long walk, a mattress tailored for your body type is essential for restful slumber. Heavy sleepers often face challenges that others may not even consider, from mattresses sagging prematurely to experiencing inadequate support leading to aches and pains. The best mattress for heavy people isn't just about durability; it's about combining support, comfort, and resilience.
Titan

Supports 1,000 pounds

Great for stomach sleepers

High-quality materials

Excellent value

Check Price
Helix

Superior cooling

Supports heavy back sleepers

Zoned construction

Responsive feel

Check Price
Nolah Sleep

Enhanced edge support

Breathable materials

Superior motion isolation

Cool AirFoam tech

Check Price
But what makes a mattress the best mattress for heavy people? Does a firmer or thicker mattress automatically translate to better? Or can foam mattresses offer the cushion and contouring that heavier individuals need? The vast landscape of mattresses can be overwhelming, but it's imperative to make an informed choice. After all, we spend a significant portion of our lives asleep, so ensuring comfort tailored to our unique needs can influence not just our nights but our days, too.
Dive with us as we explore the top 5 mattresses that could be the key to your most rejuvenating sleep yet.
Summary of the Best Mattresses for Heavy People
Benefits of Buying a Good Mattress
Investing in a quality mattress, especially one that caters to heavier sleepers, can lead to a myriad of health and lifestyle advantages. Here are some of the most pronounced benefits:
Pain Relief: The best mattress for heavy people contours to the body's unique shape, providing targeted relief to pressure points. This can help reduce or eliminate chronic pains, especially in the back, hips, and shoulders.
Improved Sleep Quality: A supportive mattress ensures the spine stays aligned and reduces tossing and turning. Sleepers can enjoy deeper, uninterrupted sleep cycles.
Temperature Regulation: Advanced mattress materials, especially specific memory foam layers, are designed to regulate temperature. This ensures a comfortable sleeping environment, free from overheating or feeling too cold.
Durability and Longevity: A mattress designed for heavier individuals typically boasts a higher quality of materials and construction. As a result, it often lasts longer, giving better value for money over time.
Reduced Motion Transfer: Memory foam mattresses are particularly known for their ability to absorb motion. This means that even if one person tosses and turns, their partner remains undisturbed.
Healthier Spinal Alignment: A firmer mattress can provide the necessary support to keep the spine in a neutral alignment. This can prevent long-term spinal issues and promote better posture during waking hours.
Enhanced Mood and Productivity: Good sleep is closely linked to improved mood and higher productivity. With the right mattress, individuals can wake up feeling refreshed and energized, ready to tackle the day's challenges.
Best Mattresses for Heavy People
Overall Best Mattress for Heavy People: Titan Plus Luxe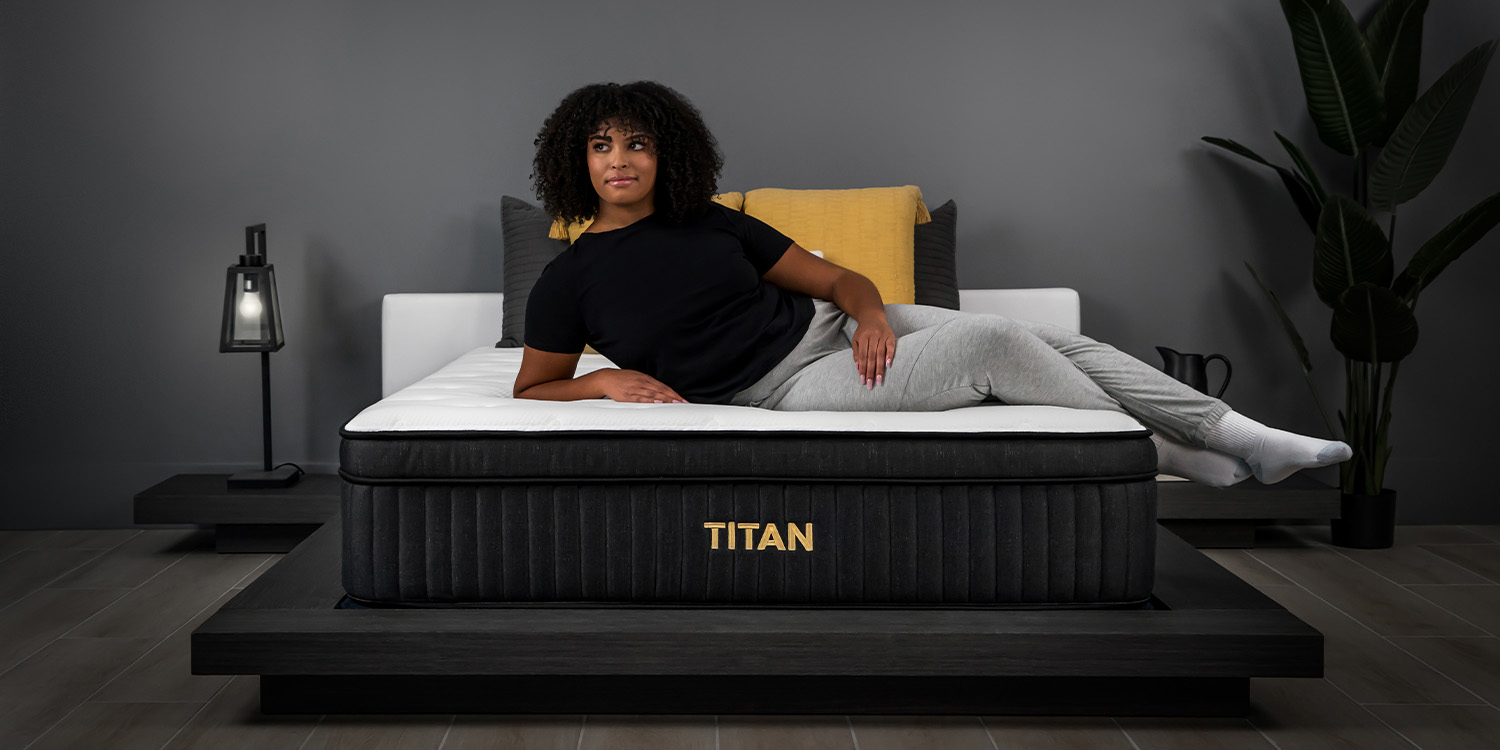 Why we love them
The Brooklyn Bedding Titan Plus Luxe is a prime example of a mattress for heavy sleepers, considering the nuances of their unique requirements. This hybrid bed is designed with resilience in mind, made evident by its emphasis on sag-free, high-density foams that ensure enduring comfort. What sets it apart is its meticulous balance between firmness and pressure relief, a combination often sought after but seldom perfected.
The Titan Plus Luxe, which is also ranked as the Best Overall Mattress for Heavy People by SleepFoundation, comes with a top layer of gel-infused foam that dissipates body heat, ensuring a cool and uninterrupted slumber, while the hybrid structure with six layers made of dense, firm foam offers support for larger individuals while ensuring comfort that alleviates pressure. Central to its construction is the robust TitanCore coil system, made from 100% steel, offering impeccable edge support and motion isolation. And while it promises a medium-firm sleep surface, the design retains breathability, ensuring you sleep cool and dry. An added perk, the 120-night trial make it an enticing option.
Pros:
Provides support for up to 1,000 pounds
Exceptional for side sleepers due to its medium-firm nature
Crafted with high-quality, durable materials, ensuring longevity without sagging
Provides excellent value for money when compared to many competitors
Cons:
People who sleep hot will need to upgrade to the cooling cover
Specs:
Mattress type: Hybrid Mattress
Firmness: Firm Mattress
Size(s): Twin, Twin XL, Full, Queen, King, Cal King, Split Cal King
Best Cooling Mattress for Heavy People: Helix Plus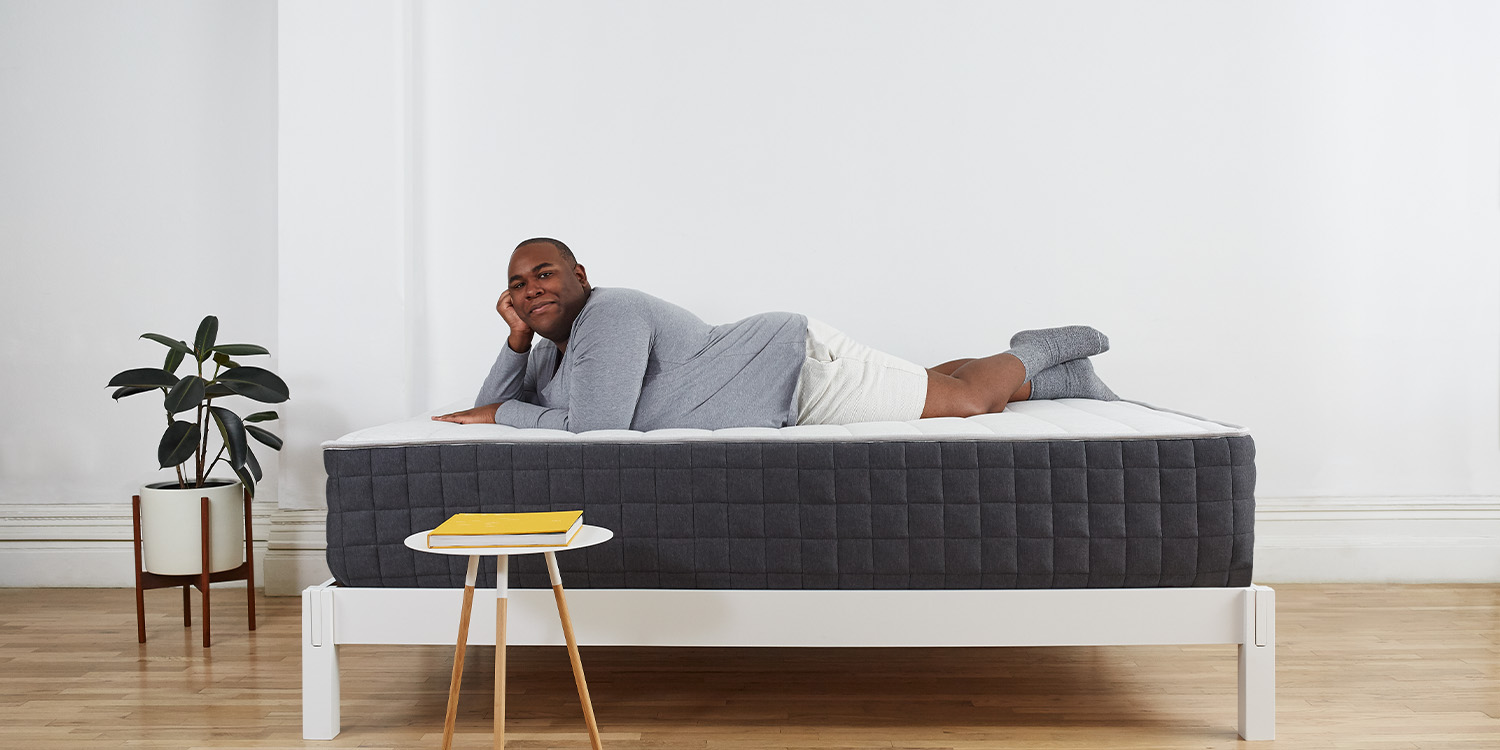 Why we love them
The Helix PLUS, which ranked as Best Overall Mattress for Heavy People by Forbes, stands out prominently in the mattress landscape, particularly for those who carry a little extra weight. This is a durable hybrid mattress crafted with dense foam and a reinforced support foundation that delivers solid comfort and relieves pressure for individuals of every size. It comes with a TENCEL™ fabric cover ideal for promoting breathability and air circulation. There's also an optional GlacioTex Cooling Cover that excels in heat dissipation during rest.
One of its undeniable strengths is its ability to marry functionality with luxury. The fusion of high-density foam layers with individually wrapped reinforced steel coils is more than a mere structural decision; it's a commitment to ensuring undisturbed, sag-free nights for years. The zoned construction — a careful calibration of firmer coils in the middle and softer ones at the ends — isn't just innovative; it's an acknowledgment of the diverse pressure points of the human body. This zoned approach is instrumental in fostering healthier spinal alignment, making it a prime choice for those grappling with back pain.
Where many mattresses compromise on temperature management, Helix PLUS shines. It's not just about the TENCEL™ cover, which is already cool to touch and boasts moisture-wicking properties, but the optional GlacioTex™ Cooling Pillow Top further elevates the cooling experience. This dedication to quality and health-first design has rightly earned Helix endorsements from luminaries in Sleep Medicine and chiropractic fields. In essence, the Helix PLUS is not just a mattress; it's a testament to the fact that sleep, comfort, and health can harmoniously coexist in one design.
Pros:
Excellent cooling features, with options like the TENCEL™ cover and GlacioTex™ Cooling Pillow Top
Offers robust support for heavier back and stomach sleepers, ensuring optimal alignment
Zoned construction aids in maintaining proper spinal alignment, potentially alleviating back pain
Delivers a responsive feel, letting sleepers rest "on top" rather than feeling engulfed
Cons:
The pronounced firmness might not be ideal for side sleepers, potentially causing pressure points for some
Specs:
Mattress type: Hybrid Mattress
Firmness: Medium Firm
Size(s): Twin, Twin XL, Full, Queen, King, Cal King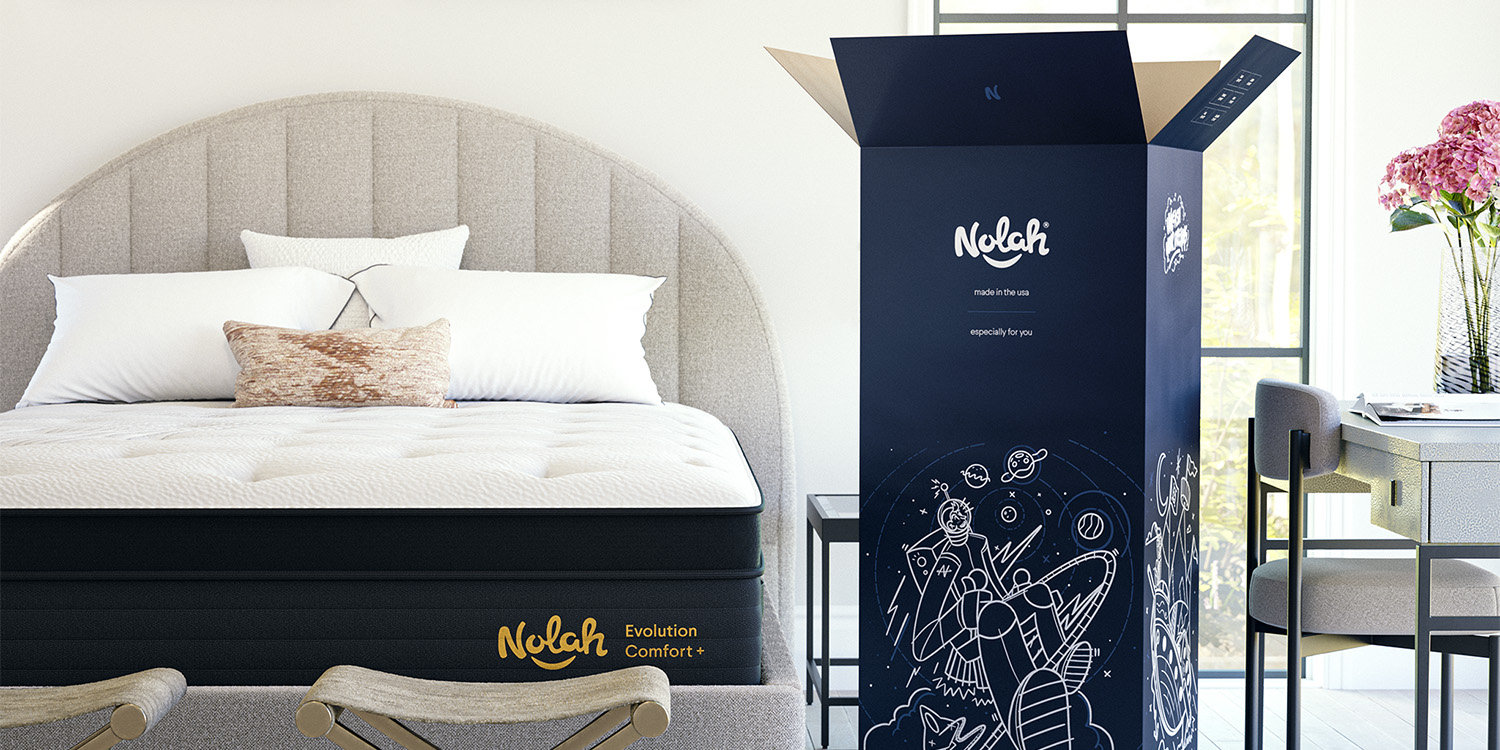 Why we love them
The Nolah Evolution Comfort+ stands as a testament to the ideal harmony between robust support and plush comfort. At its heart is a hybrid composition that includes a plush Euro topper, foam that relieves pressure, and 8-inch coils wrapped individually, catering to sleepers weighing up to 1,000 pounds. As sleepers relish the plush embrace of the foam, the underlying coils ensure a bedrock of stability and resilience. The Evolution Comfort+ is meticulously crafted to address the challenges that come with heavier body types—offering enhanced edge support and a sleep experience that remains refreshingly cool.
The Evolution Comfort+, which ranked as Best Mattress for Heavy People by U.S. News, features HDMax coils, tailored for side sleepers, providing deep support around the hips and shoulders. The quilted Euro topper, with its unique cool foam, adds a luxurious cloud-like feel to this firm support structure. What further accentuates its appeal is the proprietary AirFoam technology by Nolah, ensuring that sleepers experience a cooler surface as compared to traditional memory foam. From motion isolation to optimal pressure relief, and temperature control to impressive edge support, the Nolah Evolution Comfort+ checks every box you could hope for in a mattress for heavy sleepers seeking rejuvenating rest.
Pros:
Enhanced edge support, allowing for maximum use of the mattress surface
Exceptional temperature control with breathable materials and design
Superior motion isolation, ensuring undisturbed sleep for co-sleepers
AirFoam technology offers a cooler alternative to traditional memory foam
Cons:
Initial off-gassing might be noticeable, although it dissipates within a couple of days
Specs:
Mattress type: Hybrid Mattress
Firmness: Medium Firm
Size(s): Queen, Twin, Twin XL, Full, King, Cal King, Split King
Best Firm Mattress for Heavy People: Plank Firm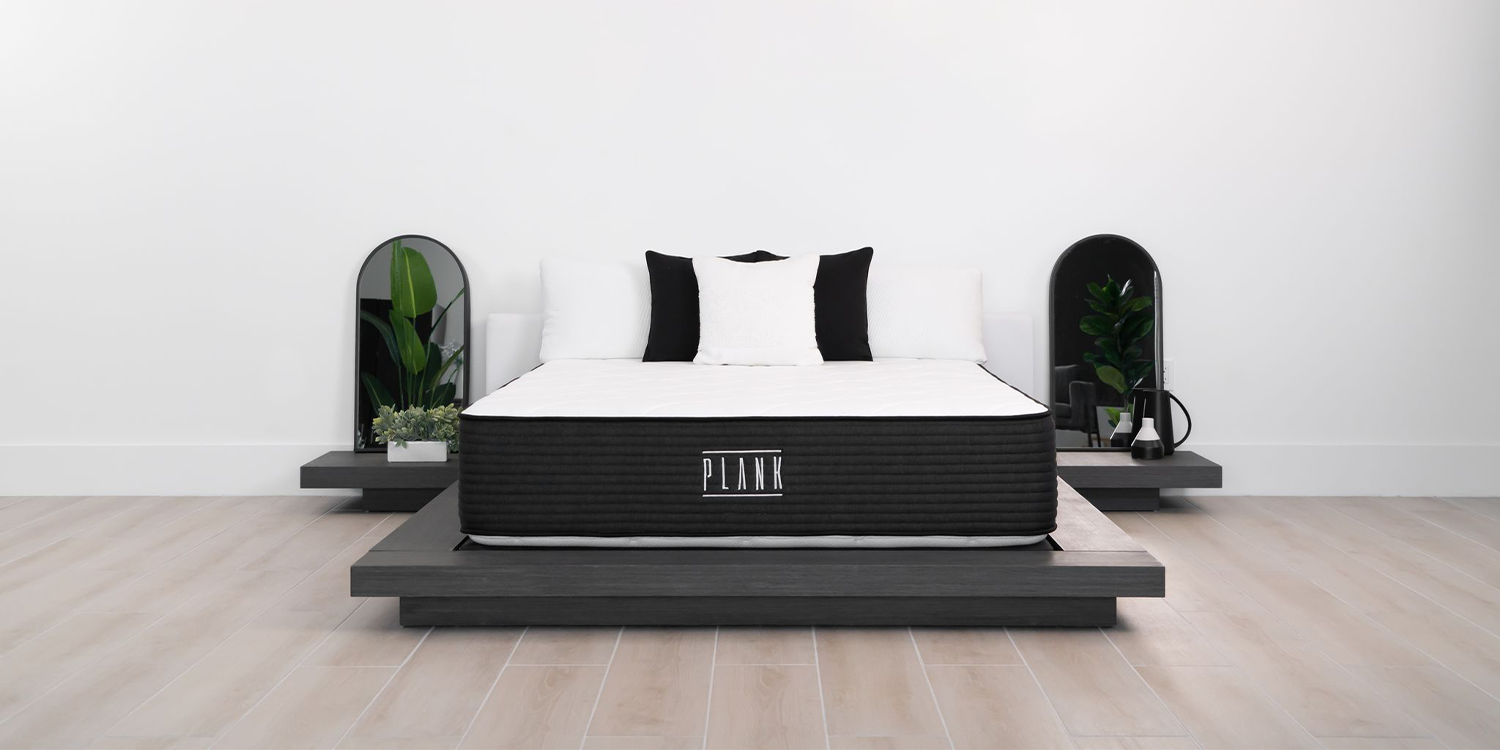 Why we love them
The Plank Firm by Brooklyn Bedding — ranked as Best Extra Firm Mattress for Heavy People by Mattress Nerd — is a game-changer for those who seek truly firm support. Its status as one of the firmest mattresses available isn't just a marketing tagline; it's an experience confirmed by countless sleepers. Endorsed by the American Chiropractic Association, its design aims to reduce spinal stress, ensuring lumbar support and potentially alleviating back pain. This dual-sided foam mattress ensures correct spinal positioning due to its supportive foam. Users have the option to sleep on either the firm or the extra firm side.
Its construction draws inspiration from ancient sleep practices, merging the benefits of firm pads and tatami mats with modern aesthetics and functionality. The Plank Firm boasts dense foams that provide strong support while comforting the hips and shoulders, ensuring prolonged and rejuvenating sleep. Its open-cell foam technology ensures breathability, and with the optional GlacioTex™ cooling cover, temperature regulation is taken to the next level. For those who prioritize spinal alignment, the Plank Firm delivers, layer by layer, making each night's sleep a restorative journey.
Pros:
A distinctively firm mattress, ranking 9/10 on the firmness scale, ideal for those who crave maximum support
Excellently tailored for stomach sleepers to maintain optimal spinal alignment
Offers two firmness levels in one mattress due to its flippable design
Has the stamp of approval from the American Chiropractic Association
Cons:
Might not be suitable for side sleepers due to potential pressure points on shoulders and hips
Specs:
Mattress type: All-Foam Mattress
Firmness: Firm and Extra Firm Mattresses
Size(s): Twin, Twin XL, Full, Queen, King, Cal King, Split Cal King, Short Full, Short Queen, Olympic Queen, Short King, RV King
Best Hybrid Mattress for Heavy People: Bear Elite Hybrid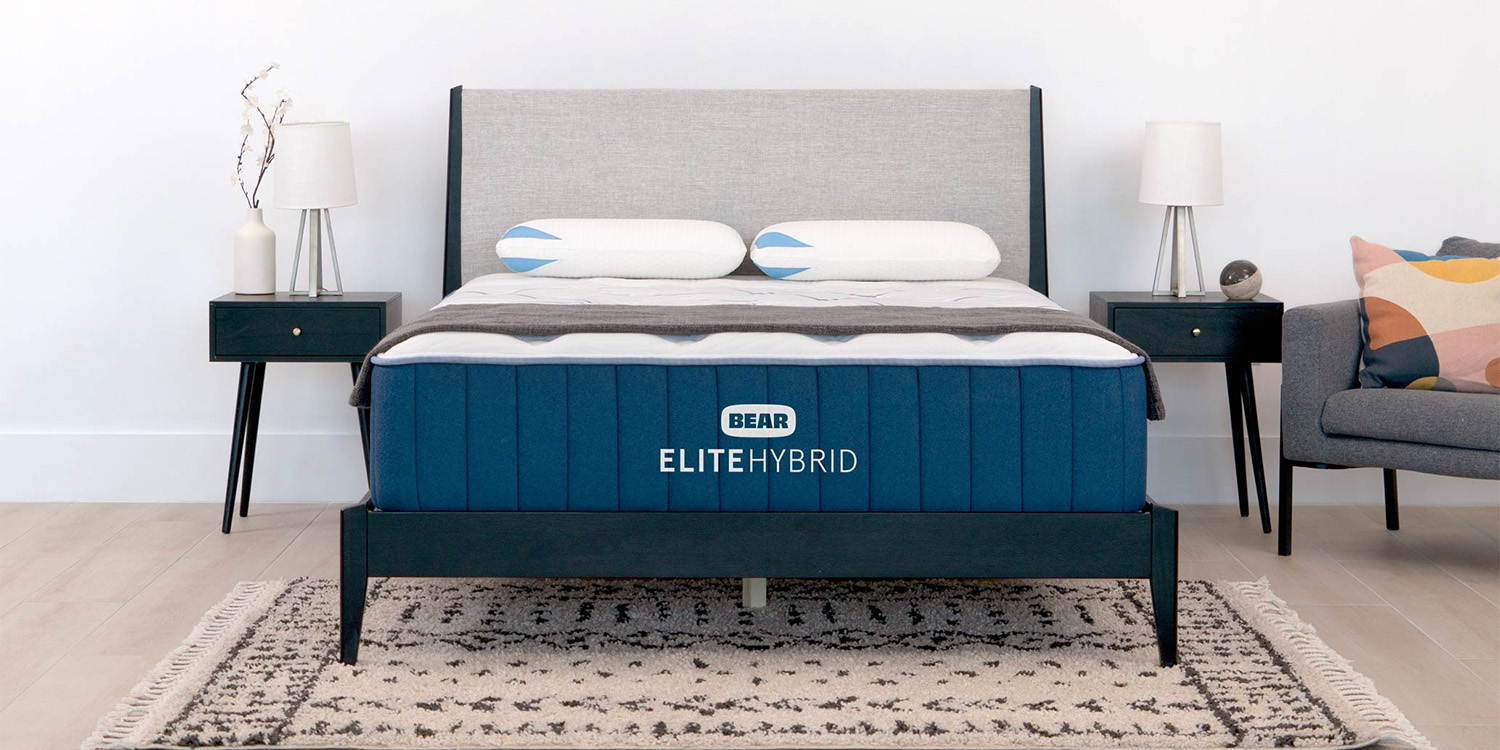 Why we love them
Bear has always been synonymous with innovation, and the Bear Elite Hybrid showcases this commitment flawlessly. Ranked as Best Hybrid Mattress for Heavy Sleepers by Mattress Clarity, this mattress, as a recent addition to Bear's repertoire, embodies luxury and thoughtful engineering. It features a six-layer opulent hybrid mattress with a specialized coil zoning system that ensures targeted support and longevity. One standout feature is the use of Phase Change Material (PCM) for optimal thermoregulation, working diligently to ensure that excess body heat is absorbed, promoting cooler sleep. In tandem with this is the Celliant® fiber, which not only elevates breathability but also supports rejuvenating sleep.
The infusion of copper into the memory foam layer takes the cooling element a step further. Beyond its temperature-regulating capabilities, copper offers a naturally antiviral and antibacterial environment, ensuring sleepers experience both coolness and cleanliness throughout the night. Underneath these layers lies an intricately designed zoned coil system. These individual coils, which extend edge-to-edge, respond to body pressure independently, minimizing motion transfer and enhancing overall comfort. With a central focus on lumbar support, the high gauge coils are strategically placed to offer relief where it's needed most. This mattress is ideal for individuals seeking temperature control, robust support, quick motion response, and relief from pressure. It also comes in threes different firmness preferences so there's something for everyone.
Pros:
Tri-level cooling features: PCM technology, breathable Celliant® fiber, and copper-infused memory foam
Advanced zoned coil system for targeted support, alleviating common pressure points
High-profile, 14-inch design, ensuring durability and comprehensive support
Comes with premium extras, including two free pillows, a sheet set, and a mattress protector
Cons:
The multiple layers and high-profile design might not be suitable for those preferring a lower-profile mattress
Specs:
Mattress type: Hybrid Mattress
Firmness: Soft, Medium, Firm
Size(s): Twin, Twin XL, Full Queen King, Cal King, Split King
Learn more about Bear Mattress
How We Picked The Best Mattresses for Heavy People
When searching for the best mattress for heavy people, it's crucial to consider a range of criteria. These mattresses need to offer distinct features to provide the essential support and comfort that heavier sleepers require. As such, we've rigorously reviewed several options, weighing each against critical elements. In this comprehensive breakdown, we'll share the criteria that guided our selection process.
Material Quality and Durability
Arguably the most crucial factor in our assessment was the material quality. The best mattress for heavy people requires materials that can consistently support additional weight without compromising on longevity. Hybrid mattresses that combined the resilience of innerspring coils with the comfort of memory foam or latex often rose to the top of our list. These materials ensure the mattress remains responsive and maintains its form over time, even under more considerable weight.
Price Range
While we recognize that many are willing to invest in a quality mattress, it's essential to ensure value for money. A higher price tag doesn't always equate to higher quality. We sought out mattresses that provided an excellent balance between cost and performance. It's possible to find a firm mattress that's both affordable and designed to cater to the unique needs of heavier individuals.
Customer Reviews and Feedback
A mattress might seem excellent on paper, but the real test is how it fares in actual homes. We delved deep into customer reviews to gauge user satisfaction. This hands-on feedback provided invaluable insights into factors like how the memory foam mattress retained its shape over time or if the firmer mattress options genuinely offered the desired support for heavier sleepers.
Firmness and Support
The best mattress for heavy people often leans towards the firmer side. This is because a firmer mattress can offer the necessary support to prevent sagging and ensure spinal alignment. We looked for mattresses that provided a good range of firmness levels, particularly those that catered to the higher end of the firmness scale. Yet, it was crucial that firmness didn't come at the expense of comfort. Mattresses that combined sturdy support with contouring memory foam or other cushioning materials were especially prized.
Temperature Regulation
One common concern, especially with foam mattresses, is heat retention. Heavier individuals might already find themselves sleeping hotter, making temperature regulation a vital feature. We prioritized mattresses that incorporated cooling technologies, breathable covers, or open-cell structures to ensure a cool and restful night's sleep.
Edge Support and Motion Isolation
For many, the edge of the bed is more than just a boundary—it's where they sit to put on shoes or even where they might sleep. A robust edge support ensures the mattress remains even, preventing any 'roll-off' feeling. Additionally, for those sharing their bed, motion isolation becomes crucial. The last thing one wants is to be jostled awake every time their partner moves. Mattresses that minimized motion transfer, often thanks to pocketed coils or dense memory foam layers, were highly favored in our reviews.
How To Find The Best Mattress for You
Finding the best mattress for heavy people is akin to finding the right life partner—it should offer comfort, and support, and stand the test of time. Given the plethora of options available in the market, making an informed decision can be overwhelming. While we've highlighted the best mattress for heavy people, your personal comfort is subjective, and the ideal mattress should align with individual preferences. To guide you through this journey, here are some essential considerations to bear in mind.
Size Matters
Before delving into mattress types, materials, or firmness, it's crucial to determine the right size mattress for heavy people. From twin to California king, there's a vast range of sizes available. Whether you're single, sharing your bed, or simply desire more space, factor in room size, sleeping habits, and your future needs when choosing the mattress size.
Firmness Level
Your preferred sleeping position often dictates the firmness level you'd find comfortable. Side sleepers might lean towards medium firmness for contouring, while stomach or back sleepers often benefit from a firm mattress. Especially for heavier individuals, a mattress for heavy people that provides ample support without sacrificing comfort is crucial.
Understand the Intended Benefits
Do you need pressure relief? Are you seeking a mattress to alleviate back pain? Or perhaps you're searching for something that offers superior edge support. Recognizing the primary benefit you want from a mattress for heavy people can significantly narrow down your choices.
Dive into Materials
The material of the mattress plays a paramount role in comfort and longevity. While memory foam offers contouring and pressure relief, gel memory foam has the added advantage of cooler sleep. In contrast, innerspring mattresses provide a traditional bouncy feel, and hybrid mattresses combine the best of both worlds, offering the support of coils with the comfort of foam.
Temperature Preferences
Your body's propensity to heat up or remain cold during sleep can influence your mattress choice. For those who tend to sleep hot, looking for mattresses with cooling technologies or materials, like gel memory foam, can be beneficial. On the other hand, those who stay cold might prefer traditional memory foam, known for its heat-retaining properties.
Edge Support
If you find yourself gravitating towards the edge of your bed, or if you frequently sit on the edge, having robust edge support is essential. This feature is commonly found in hybrid and innerspring mattresses. Not only does it enhance the sleeping surface, but it also prolongs mattress life by preventing sagging.
Budget Constraints
While it's tempting to believe that higher-priced mattresses are inherently better, it's more about the value offered. Whether you're on a tight budget or willing to splurge, ensure that the mattress delivers on its promises. Sometimes, the best mattress for heavy people might not be the priciest but the one that aligns with specific needs.
Warranty and Sleep Trials
A mattress for heavy people is a long-term investment, and having the security of warranties and sleep trials can be reassuring. Brands that offer extended warranties or generous sleep trials often showcase their confidence in product quality. It allows you to test the mattress in the comfort of your home and ensure it's the right fit.
Types of Mattresses
Navigating the world of mattresses can sometimes feel like deciphering a language you don't know. With terms and jargon aplenty, understanding the basic types of mattresses and their unique benefits is paramount. Especially when considering the needs of heavier individuals, knowing which type offers the best support and comfort can make all the difference. In this section, we delve deep into the popular mattress types available in the market, offering insights into their construction, benefits, and suitability for various sleepers, especially those on the heavier side.
Memory Foam Mattress
Memory foam, initially developed by NASA, has become a household name in the bedding industry. Known for its viscoelastic properties, this material offers exceptional contouring to the body, ensuring even weight distribution and pressure relief. For those seeking a firm mattress that still adapts to their unique body shape, high-density foam variants can be ideal. Memory foam mattresses can be especially beneficial for heavier individuals as they often include layers of high-density foam that offer both support and durability.
Hybrid Mattress
As the name suggests, hybrid mattresses combine elements of innerspring and foam mattresses. Typically, they feature a coil support core topped with layers of memory foam, latex, or other cushioning materials. This fusion ensures that sleepers experience the bouncy responsiveness of coils along with the plush comfort of foam. The best mattress for heavy people often leans towards hybrid designs, primarily because they offer robust support, edge support, and adaptive comfort simultaneously.
Innerspring Mattress
Innerspring mattresses have been around for decades and are characterized by their coil support system. The number, type, and arrangement of coils can vary, impacting the mattress's overall feel and support. While they offer a classic bouncy feel, innerspring mattresses can sometimes lack the contouring and pressure relief found in foam or hybrid mattresses. However, for those who prefer a firm mattress with significant pushback, innerspring options might be ideal.
Gel-Infused Foam Mattress
One common grievance with traditional memory foam offerings is their tendency to retain heat. Enter gel-infused foam mattresses, which integrate cooling gel beads into the foam. This inclusion not only aids in dissipating heat but also enhances the mattress's overall comfort. Those on the heavier side who find themselves overheating during the night might find respite with a gel-infused foam mattress.
Polyfoam Mattress
Polyfoam, or polyurethane foam, is a versatile material that can vary in density and firmness levels. While it offers a similar feel to memory foam, it's generally less conforming. High-density versions of polyfoam can provide a firmer support base, making them suitable for heavier individuals. Moreover, polyfoam mattresses often come with a more attractive price tag, making them a popular choice for budget-conscious shoppers.
Latex Mattress
Derived from the sap of rubber trees, latex offers a unique combination of bounce and cushioning. Available in both natural and synthetic variants, latex mattresses are known for their durability and resistance to sagging. They can be a great option for those seeking a firm mattress with some inherent elasticity. Latex is also hypoallergenic and resistant to dust mites and mold, making it an excellent choice for allergy sufferers.
Adapting to Your New Mattress
For many, investing in a new mattress is a significant step towards improved sleep and better health. However, the transition phase, often referred to as the 'break-in period', can be a mixed bag of experiences. This is particularly true for heavier individuals, who might notice a starker contrast between their old sleeping surface and the new one. In this section, we'll walk you through the process of adapting to your new mattress and offer tips geared toward the specific needs of heavier sleepers.
Initial Impressions Aren't Always Lasting
Upon first trying your new mattress—whether it's a memory foam mattress, a hybrid mattress, or another type—you might feel it's either too firm or too soft. It's important to remember that mattresses, especially those shipped in boxes, may take a few days to fully expand and reach their intended firmness. Moreover, your body will need time to adjust to the new support dynamics.
Understanding the Break-in Period
Most mattresses have a break-in period that can range from a few days to a month. During this time:
Memory foam mattresses might feel firmer until they adjust to room temperature and regular use.
Hybrid mattresses might take a bit longer to adapt, given their combination of springs and foam. The coils will adjust to bearing weight, while the foam layers soften with usage.
Especially when it comes to a mattress for heavy individuals, the break-in period might be slightly extended due to the need for more robust pressure relief and support layers. The way you sleep also plays a role. Stomach sleepers, for instance, will experience a different break-in sensation than side sleepers.
Tips for Easing the Transition
Rotate Regularly: Especially during the initial weeks, rotate your mattress every few days. This promotes even wear, especially if you're a heavy person and the pressure exerted on the mattress is greater.
Stay Consistent: Even if you're not finding it as comfortable as expected, try to sleep on your new mattress consistently. This will help expedite the adjustment process for both the mattress and your body.
Use Appropriate Beddings: If you find the mattress surface too slippery or not conducive to your current sheets, consider investing in deep-pocketed or stretchy sheets. For foam mattresses or those offering pressure relief, flexible sheets can move with the mattress's contours.
Considerations for Heavier Sleepers
Edge Support: Heavier individuals often require robust edge support. During the break-in period, try not to sit on the edges too frequently. This will ensure the mattress edges don't sag prematurely.
Temperature Sensitivity: Some materials, like memory foam, respond to temperature. If you're finding your memory foam mattress too firm, check the room temperature. A slightly warmer room can make the foam more pliable, offering better pressure relief.
Pillow Loft: With a new mattress, especially one tailored for side sleepers or those needing specific support, your pillow might either be too high or too low. Ensure you adjust your pillow loft to maintain spinal alignment.
Twin Mattress & Guest Room Considerations
If you're adapting to a twin mattress in a guest room or purchasing one for occasional use, remember that it might not get the consistent use required to break it in quickly. To hasten the process, you can occasionally lie down on it during the day, helping to evenly distribute weight and quicken the softening of the mattress.
Adapting to a new mattress is a journey—one that's worth the temporary discomfort for the long-term benefits. It's essential to be patient and allow both your body and the mattress to adjust. Remember, just as you took time selecting the best mattress for side sleepers or the specific requirements you had in mind, give it the due time to prove its worth. Restful nights are just around the corner!
Sleep Hygiene for Heavier Sleepers
As the discourse around sleep evolves, the concept of sleep hygiene—practices and habits that optimize good quality nighttime sleep and full daytime alertness—takes center stage. However, for heavier sleepers, the journey to restful nights involves unique challenges. These challenges, while often linked to their specific physical needs, can be effectively addressed by adopting certain tailored sleep hygiene practices.
The Connection Between Weight and Sleep
There's a reciprocal relationship here. While poor sleep can lead to weight gain, being heavier can also result in disturbed sleep patterns due to factors such as increased pressure on joints and a higher likelihood of sleep apnea. The foundation for addressing these concerns is the right mattress.
Choosing a mattress for heavy individuals that align with their needs becomes the first step toward improved sleep hygiene. While the conventional wisdom around mattresses centers on factors like memory foam depth or spring resilience, for heavier sleepers, there's a need to focus on the holistic experience the mattress offers. This includes ensuring that the mattress provides adequate support to relieve pressure points, stays cool throughout the night, and complements their sleeping position.
The hybrid mattress, for instance, has emerged as a popular choice among many heavy sleepers. Its construction typically involves layers of memory foam or latex combined with innerspring coils, offering the dual advantage of contouring support and a bounce that facilitates movement. This unique combination ensures that heavier individuals don't "sink" too much into the mattress, which can be detrimental to spinal alignment and can increase the risk of overheating. A well-constructed hybrid mattress can provide the balance of support and comfort that is crucial for promoting restful sleep among heavier individuals.
For stomach sleepers who are on the heavier side, sleep hygiene involves some additional considerations. Stomach sleeping can sometimes strain the neck and back, especially if the mattress doesn't offer adequate support. This strain can be accentuated for heavier individuals, leading to interrupted sleep or waking up with stiffness and pain. Prioritizing a firm mattress that prevents the hips and belly from sinking too deeply can be beneficial. In addition to the mattress, using a thin pillow or even forgoing one can help in maintaining a neutral spine position.
Other Factors
Beyond the realm of mattresses and sleeping positions, other sleep hygiene practices can benefit heavier individuals:
Temperature Regulation: Heavier individuals often report feeling hotter during the night. This is where mattresses with cooling technologies, be it gel-infused layers or breathable covers, become invaluable. Ensuring the bedroom is well-ventilated and keeping it at a cooler temperature can further enhance sleep quality.
Consistent Sleep Schedule: While this is a universal recommendation, for heavier individuals, especially those struggling with sleep apnea or other sleep disturbances, a consistent sleep schedule can help regulate the body's internal clock and improve the quality of sleep.
Limiting Screen Time: The blue light emitted by phones, tablets, and computers can interfere with the production of melatonin, the hormone responsible for sleep. Given that heavier individuals might already face challenges in achieving deep sleep, it's advisable to limit screen exposure to at least an hour before bedtime.
Mindful Eating: Heavier individuals should be mindful of their food intake close to bedtime. Heavy meals can cause discomfort and indigestion, leading to interrupted sleep. Similarly, limiting caffeine and alcohol intake in the evening can result in better sleep.
Relaxation Techniques: Engaging in relaxation practices like deep breathing, meditation, or even reading a book can signal the body that it's time to wind down. For those who carry weight-induced stress or anxiety, these techniques can be particularly helpful.
While sleep hygiene is a broad concept that everyone should adopt, for heavier individuals, it often requires a more tailored approach. By considering their unique needs and challenges, it's entirely possible to craft a sleep environment and routine that not only enhances the quality of sleep but also positively impacts overall health and well-being.
Pressure Points and Relief Mechanisms
For anyone searching for the perfect night's sleep, understanding how pressure points interact with a mattress is crucial. However, this understanding becomes even more significant for heavier individuals, given the additional weight exerted on the sleeping surface. Recognizing the primary pressure points and adopting relief mechanisms can play a transformative role in enhancing sleep quality for those with a heavier body type.
When we discuss pressure points, we're referring to those parts of the body that bear the most weight and experience the most pressure when lying down. These typically include the shoulders, hips, and, in some cases, the heels. For heavier individuals, especially stomach sleepers, the belly can also become a significant pressure point. As the weight presses down, it can lead to discomfort, pain, and even disrupted sleep. Thus, addressing these pressure points becomes essential for achieving a restful night.
The Role of Mattress Types in Pressure Points
The type of mattress chosen can have a significant impact on how these pressure points are managed. A mattress for heavy individuals is designed to account for this additional weight and the resultant pressure. These mattresses typically offer a blend of support and cushioning to balance out the weight distribution.
Enter the hybrid mattress, which has recently become a preferred choice for many seeking pressure relief. By design, a hybrid mattress combines the best of both worlds: the contouring of memory foam (or latex) and the supportive bounce of innerspring coils. The foam layers mold to the body's shape, offering cushioning right where it's needed, while the coils ensure that the weight is evenly distributed. This combination becomes crucial for heavier individuals who require both support to prevent sinking and contouring to alleviate pressure.
For stomach sleepers, the challenges around pressure points are slightly different. When a heavier individual sleeps on their stomach, the added weight around the belly can cause a pronounced arch in the lower back, leading to potential discomfort. Thus, for stomach sleepers, a slightly firmer surface might be beneficial. It can provide the necessary support to the belly, preventing it from sinking too much, and ensuring the spine remains aligned.
Other Relief Mechanisms
Beyond mattress choices, several other relief mechanisms can be incorporated to address pressure points:
Pillow Placement: Strategically placing pillows can help alleviate pressure. For side sleepers, a pillow between the knees can help align the hips and reduce stress. Stomach sleepers can benefit from a thin pillow below the pelvis to ensure the lower back doesn't arch excessively.
Sleeping Position Modification: Occasionally, minor tweaks in sleeping positions can result in significant pressure relief. For instance, a back sleeper might benefit from slightly elevating their legs using a cushion or adjustable bed base, reducing stress on the lower back.
Stretching and Physical Therapy: Engaging in regular stretches, especially targeted ones that focus on the major pressure points, can help in alleviating tension. Physical therapy can also offer more specialized exercises and maneuvers to tackle persistent pressure-related discomfort.
Mattress Toppers: For those not in the market for a new mattress but seeking added pressure relief, mattress toppers can be a viable solution. Memory foam toppers, in particular, can offer the desired contouring to soothe pressure points.
Frequent Position Changes: If possible, shifting positions throughout the night can prevent excessive pressure from building up in any single area. It's akin to shifting weight from one foot to the other when standing for extended periods.
Understanding the dynamics of pressure points and being proactive in seeking relief mechanisms is critical for heavier individuals. While a well-chosen mattress, like a hybrid mattress, can offer foundational support and comfort, complementing it with targeted strategies can ensure that sleep is not just restful, but also restorative. Investing time and thought into these aspects can pave the way for nights free of discomfort and days brimming with vitality.
FAQs
How long does a mattress last?
The lifespan of a mattress varies based on its construction, materials used, and how well it's maintained. Typically, innerspring mattresses last around 7-10 years, whereas memory foam and polyfoam mattresses can also last up to a decade if they're of high quality. Latex mattresses can carry lifespans of up to 15 years due to their durable natural materials. Hybrid mattresses, which combine elements of foam and innerspring, typically have a lifespan that sits in the middle, averaging around 8-12 years. Investing in a firm mattress or the best mattress for heavy people can sometimes enhance longevity due to their robust construction.
How often should you replace your mattress?
Generally, it's recommended to replace your mattress every 7-10 years. However, this timeframe can vary based on the type of mattress and its quality. A hybrid mattress or high-density memory foam variant might show less wear and tear than a basic innerspring or low-density foam mattress. Factors to consider include visible sagging, reduced comfort, or if you wake up with aches and pains that weren't present when the mattress was new. Additionally, if a mattress for heavy people starts to lack the firm support it initially offered, it might be time for a replacement.
How do I get rid of my old mattress?
When you're ready to part ways with your old mattress, you have several environmentally-friendly options. Many mattress companies offer removal services when delivering a new mattress. Local charities or shelters might accept gently used mattresses for donation. Recycling is another sustainable choice, as up to 90% of a mattress's components can be recycled. Check if there are mattress recycling programs or facilities in your area. Lastly, if you're feeling creative, you can repurpose parts of your old mattress into DIY projects, such as using the foam for cushioning or the springs for garden trellises.
What's the difference between a hybrid mattress and a memory foam mattress?
A memory foam mattress primarily consists of layers of memory foam or a combination of memory and other foam types. Known for its contouring properties, memory foam adapts to the sleeper's body, providing targeted pressure relief. On the other hand, a hybrid mattress combines the features of an innerspring mattress with comfort layers of foam (like memory foam). This combination offers the bounciness of coils and the cushioning of foam, making it a popular choice for those wanting a balanced sleeping experience.
How do I choose the best mattress for heavy people?
When selecting the best mattress for heavy people, it's crucial to consider factors like support, durability, and temperature regulation. A firm mattress or a hybrid mattress with a sturdy coil system can offer the necessary support, ensuring the spine remains aligned. High-density foam mattresses resist sagging and can provide the required durability. Given that heavier individuals might sleep warmer, opting for a mattress with cooling features, such as gel-infused memory foam or breathable covers, can be beneficial.
Are firm mattresses better for back pain?
While personal preference plays a significant role, many experts suggest that a firm mattress can be beneficial for back pain. Especially for back or stomach sleepers, a firmer surface prevents the hips from sinking too deep, ensuring spinal alignment. It's essential, however, to strike a balance. An overly hard mattress can exacerbate pressure points, while an excessively soft one can lack support. Hybrid mattresses or those with zoned support can offer a blend of firmness and cushioning suitable for back pain relief.
How can I extend the life of my mattress?
To maximize the longevity of your mattress, consider using a quality mattress protector to shield against spills, dust mites, and allergens. Regularly rotating the mattress (every 3-6 months) can also help prevent wear patterns and indentations, especially for memory foam or types of mattress for heavy individuals. Keeping the mattress clean, maintaining a supportive bed base, and avoiding jumping or putting excessive force on it can further ensure your mattress serves you well for years.
How important is edge support in a mattress?
Edge support is a crucial factor, especially for those who frequently sit or sleep near the mattress's edge. Enhanced edge support prevents sagging, extending the mattress's usable surface and lifespan. For couples or larger individuals, a mattress with strong edge support ensures consistent comfort and support across the entire mattress, enhancing the overall sleeping experience.
Conclusion
Choosing the right mattress is pivotal to achieving restorative sleep, and for heavier sleepers, this decision becomes even more critical. Throughout our comprehensive guide, we've delved into the intricacies of finding the best mattress for heavy people, emphasizing the importance of support, durability, and tailored comfort. While memory foam, hybrid, and firm mattresses may seem like a small selection to choose from, individual preferences regarding firmness, temperature regulation, and pressure relief play essential roles.
We've highlighted various top-tier mattress options, each offering unique benefits to cater to diverse needs. From the sturdy support of hybrid mattresses to the contouring embrace of memory foam, the choices are vast. Remember, investing in the right mattress is an investment in your health and well-being. As we conclude our exploration, we hope you're equipped with the knowledge to make an informed choice, ensuring countless nights of sound, rejuvenating sleep.
This article has been supplied by Originated Media, a paid advertiser. The editorial staff of Chicago magazine had no role in this post's preparation.