ESA Letter: 3 Best Emotional Support Animal Letter Services
PAID POST BY ORIGINATED MEDIA
If you've ever had a pet, you'll know that they're more than just an animal, they're family, and spending even a few minutes with them can be enough to brighten the rest of your day. If you're having difficulties with your mental health, you may find yourself relying on a pet even more than this and may find it difficult to get through your day without them. Or perhaps you find yourself struggling and know that an animal companion could seriously help you through it.
Pettable

Quick process

Top therapists

Money-back guarantee

Two pets per letter

Check Price
ESA Pet

Telehealth available

Multiple ESA letters option

Professional therapists

Fast response

Check Price
CertaPet

Multiple consultations

Renewal discounts

Instant digital letter

Licensed professionals

Check Price
That's where the concept of emotional support animals, or ESAs, comes in. An ESA is an animal that helps an individual who is struggling with significant mental health issues or a psychiatric disability. The support they offer and the extent to which their owner relies on them goes beyond that found in the standard owner-pet relationship and is formally recognized with the issuing of an emotional support animal letter.
Also known as an ESA letter, this is a letter issued by a licensed mental health professional confirming that the owner requires their animal for their mental health. If you rely on your animal in this way, having a valid ESA letter will provide you with the legal protections that you need to ensure they're able to accompany you wherever they're needed. That's why it's so important to go with a provider who can make the process quick and easy for you, meaning that you and your companion can get the protection you need and are entitled to as soon as possible.
Best ESA Letter Services
Best Overall ESA Letter: Pettable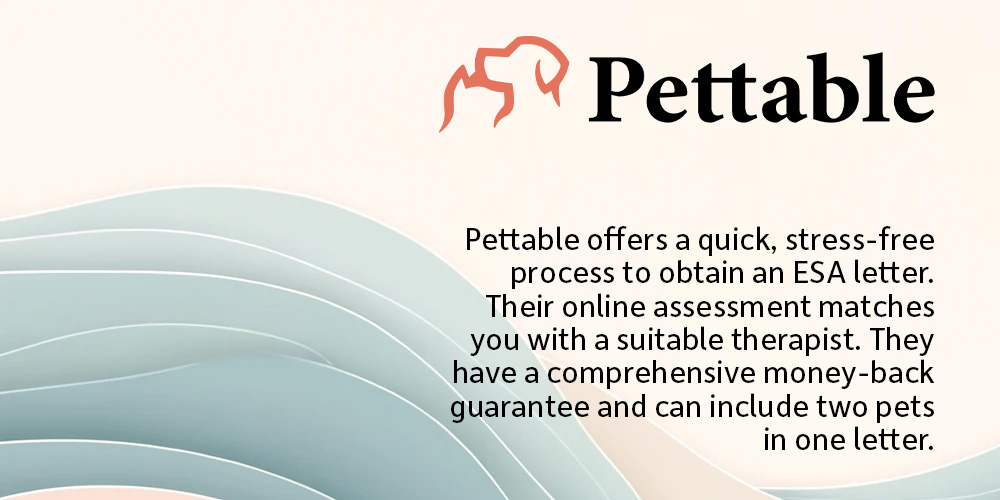 Pettable makes the process of obtaining your ESA letter quick, easy, and free from any unnecessary stress and worry. Their initial online assessment only takes a few minutes to complete and allows them to match you with the therapist best suited to your individual needs. These licensed therapists come from a range of backgrounds and have an impressive array of mental health specialisms between them, and also prove to be very compassionate and understanding people. Couple this with a speedy turnaround, an impressive money-back guarantee, and the additional support they provide and you have what is likely the best overall ESA letter service on the market.
Pros:
Excellent therapists with a wide range of backgrounds
Quick and easy initial assessment matches you with the support you need
Full and comprehensive money-back guarantee
Can include two pets on the same ESA letter
Cons:
An additional letter is required if you have more than two ESAs
Other than their excellent customer service and stress-free experience, Pettable stands out for their money-back guarantee, which not only covers you if you don't get an ESA letter after your consultation but also if your landlord refuses to accept your letter even after you've filed a complaint with the Department of Housing and Urban Development. This not only provides you with some extra reassurance about your investment but also makes it clear how confident Pettable is in the letters they issue. They're also a great option if you have more than one emotional support animal, as they can easily include two in the same letter.
Best For Psychiatric Service Letters: ESA Pet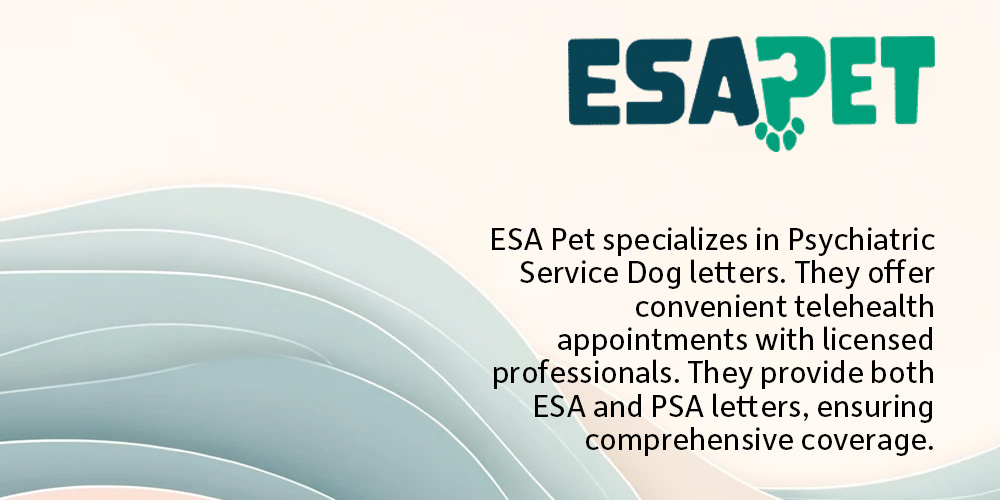 If you have a Psychiatric Service Dog (a dog that helps people with a wide range of mental and emotional disabilities, like PTSD, severe anxiety, depression, and more), then ESA Pet has you covered. Unlike ESAs (which aren't recognized in some parts of the law), PSAs are legally able to be accommodated in all spaces.
More nuanced than a typical ESA Letter, your PSA Letter will be obtained once you have a brief telehealth meeting with a licensed mental health professional in your state. Whether you're looking to obtain a travel letter or one for housing, ESA Pet has options to suit your needs.
Pros:
Convenient telehealth appointment with a licensed mental health professional
Can purchase multiple ESA letters
Register your pet(s) in 3 easy steps
Cons:
PSAs require specialized training, so you cannot register any ESA as a PSA
ESA Pet is fast, convenient, and the perfect answer whether you're looking for an ESA letter or a PSA letter.
Best Flexible Option: CertaPet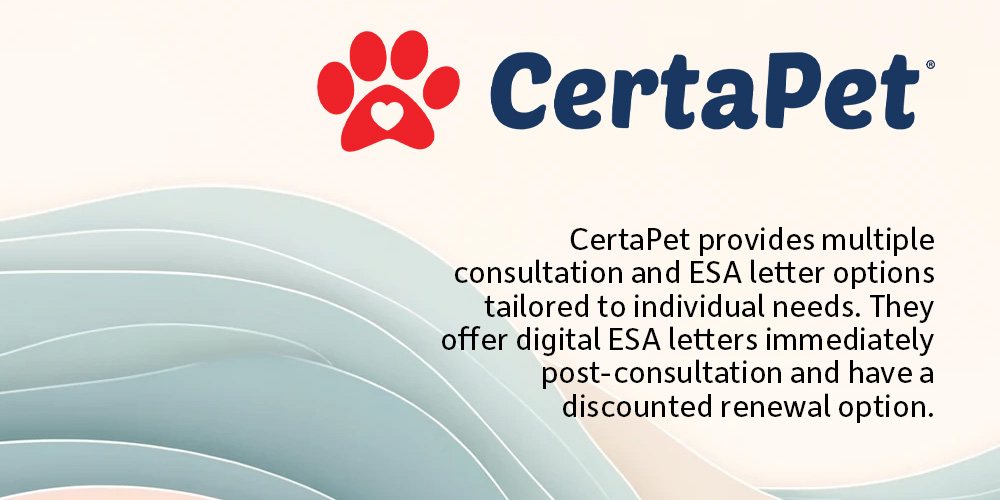 Everyone's lifestyle is different, with some choosing or needing to travel more often than others. These differences can have an impact on the ways in which your animal helps you, and the situations where your ESA letter will come in handy. The Better Business Bureau-accredited CertaPet takes this into account, offering multiple consultation and ESA letter options depending on whether you're concerned with your housing rights, your travel arrangements, or both. Whichever letter you opt for, you're guaranteed to get a quick and efficient consultation with a licensed therapist who understands your needs and who can issue the ideal ESA letter for your personal situation.
Pros:
Multiple consultation options to suit your personal requirements
Their discounted renewal option can save you a lot
Digital ESA letter available to download immediately
Better Business Bureau-accredited provider
Cons:
May not be the best option for people with multiple ESAs
The flexibility they offer is something that really sets CertaPet apart, but they also offer great discounts for repeat customers, which can mean big savings over time as ESA letters need to be reissued on an annual basis to retain their legal status. You'll also be able to download a digital copy of their ESA letter from their online platform immediately after your consultation, so you could have it emailed over to your landlord within minutes of your appointment finishing if you need to, though CertaPet does recommend presenting them with a hard copy, in person if possible.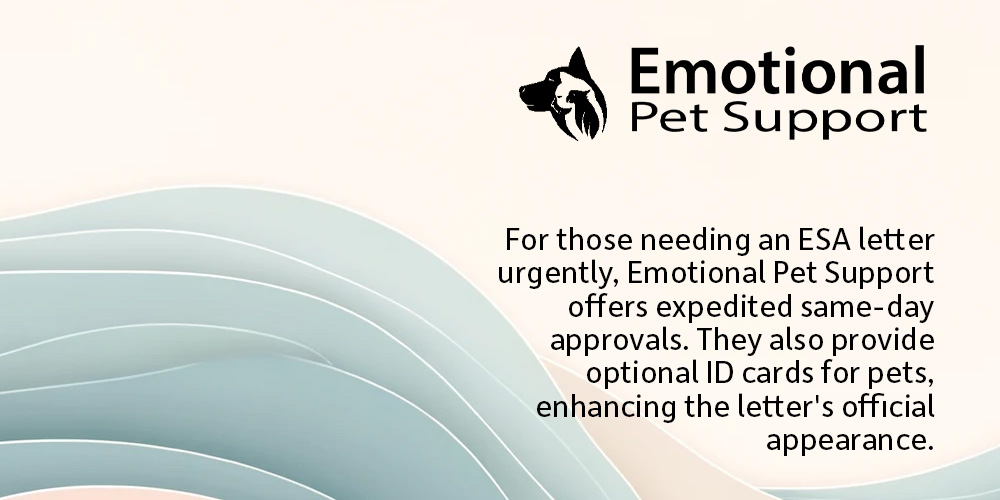 If you need your ESA letter as soon as possible, Emotional Pet Support may be your answer. With expedited same-day ESA approval options, you may be able to receive your ESA or PSA letter in just 6–12 hours.
Emotional Pet Support also offers ID cards, which can sometimes be required by landlords. While optional, these have a photo of your pet's face on it so that your ESA or PSA letter looks even more official if you ever experience any sort of push-back in an establishment.
Pros:
Mental health coverage is 24/7
Same-day approval options
Electronic PDF letter accessible immediately
30-day money-back guarantee
Cons:
Only dogs are qualified to receive the PSA ID card
What is an ESA letter?
An ESA letter is a letter confirming that a licensed mental health professional has diagnosed you with a mental or emotional disability and that they recommend you use an emotional support animal as part of your treatment. The letter will be on their official letterhead and include the name and license number of the mental health professional who diagnosed you and may also include details of your condition or your chosen animal.
As this is a recommendation from a licensed mental health professional regarding a disability, it carries significant legal weight, ensuring others will recognize your need for an ESA and making it much easier to live and travel with them, without any unnecessary costs or inconvenience.
How We Chose the Best ESA Letter Services
There's no shortage of ESA services on the market today, but not all of them are worth your time. The last thing you want to do is end up dealing with a provider who makes the process difficult and doesn't respond to your queries, only to eventually end up with a low-quality, poorly worded letter and no additional support.
That's why we've conducted a thorough assessment of every ESA letter service in our list, ensuring that each of them will meet or exceed your expectations in all of the following areas.
Quality and Reliability
The ESA letter itself is the key part of the service that each of these providers offers, so it's essential that it looks and sounds professional, is recognized by the appropriate individuals, and is free from spelling and grammar mistakes and ambiguous wording.
Customer Experience
This includes everything from when you first reach out to the provider to when you receive the letter, as well as how easy they are to communicate with throughout the process and the support you receive after you've been provided with your letter. We expect the process, including any assessments, to be smooth and easy to understand and any queries to be quickly and comprehensively addressed.
Additional Services
With the large number of ESA letter services now available, simply providing a comprehensive, well-written letter is the bare minimum. The best providers all go a step further than this, offering complimentary services such as assistance with any additional forms, speaking with landlords or employers on your behalf, and even providing legal support in cases where an individual or organization fails to recognize the accommodations you're legally entitled to.
Customer Reviews
Our examination of a company and its services can only go so far, which is why we also take customer reviews into account. Customer reviews provide us with an easy way to spot common issues or to recognize an inconsistent service that may appear good but that leaves some of its customers disappointed. On the other hand, overwhelmingly positive reviews provide us and you with confirmation that our top picks truly are the best ESA letter services.
How To Get an ESA Letter?
The process of getting an emotional support animal letter is relatively straightforward, once you've found the right provider. Once you've done this, you begin the process by contacting them and providing the required information. This will typically include basic personal details, such as your name, the name of your support animal, and your address and contact details. You may also be asked to complete a short online assessment at this point, which just serves to help your provider understand your needs and situation a little better.
Once you've done this, you'll be matched with a therapist or other licensed mental health professional in your state for a more substantial consultation. This will focus on understanding your mental health and how a support animal can benefit you, with the therapist helping to ensure that you get as much as possible from your ESA arrangement.
After your appointment is over and your therapist can confirm your requirement for an emotional support animal, you will be issued with your ESA letter. In many cases this will be sent to you digitally, allowing you to receive it and the protection it offers as soon as possible, though a paper copy will likely still be available on request.
Benefits of ESA Letters
Having a legitimate ESA letter is what separates a pet that provides emotional support and a genuine emotional support animal. Although this may sound like a very minor distinction, emotional support animals are afforded both more consideration and more protections under state and federal laws than pets are. This can make a huge difference in several areas, particularly regarding housing and travel arrangements.
The benefits concerning housing primarily relate to the Fair Housing Act. The Fair Housing Act works to prevent discrimination against tenants, including discrimination against those with mental and emotional disabilities, which includes those who have an ESA letter prescribing that they have an emotional support animal.
These protections mean that your current or future housing provider will have to make reasonable accommodations to allow you to live with your emotional support animal, even if they ordinarily do not allow pets. It also prohibits them from charging you an additional deposit, extra rent, or pet fees for your ESA, not only saving you money but preventing financial concerns keeping you from having the support that only your animal friend can provide.
ESA letters can also have a lot of benefits when traveling and in day-to-day life. Although businesses that don't allow pets are still entitled to refuse entry to emotional support animals, many are very understanding and accommodating once they understand that you're being genuine about your needs, which is most easily demonstrated through your ESA letter or animal ID card.
The situation is similar with airlines who, due to new regulations announced by the Department of Transportation in December 2020, no longer consider ESAs to be service animals, but often afford them privileges nonetheless.
The situation is similar with airlines who are often very accommodating of emotional support animals, despite new Department of Transportation regulations meaning they are no longer forced to do so. We recommend you speak to your airline before booking, however, as policies can change and some will be more understanding of your situation than others.
How To Register an Emotional Support Animal?
There's no central registry of emotional support animals. Once you've obtained your ESA letter you don't need to register your animal or do anything further to benefit from all of the legal rights that come with that.
However, some ESA letter services such as US Service Animals do also maintain their register of support animals and will add you and your animal to this list once you've obtained your ESA letters from them. Whilst this isn't strictly necessary, it can be beneficial as it allows others to easily verify your ESA letter and emotional support animal if necessary.
When this is done, it should be included as part of the rest of the service, and it is good to be wary of any companies that ask you to pay extra for registration or who claim that you can register your pet as an ESA without speaking to a mental health professional or issuing an ESA letter.
Frequently Asked Questions
Can Any Animal Be an Emotional Support Animal?
Although dogs and perhaps cats are the animals most will commonly associate with the role, any domesticated animal can be an emotional service animal. The fact that they don't require any special training or skills, other than an intuitive ability to recognize and respond appropriately to your emotions, means that any domesticated animal that you're able to take care of as a pet could potentially be an emotional service animal.
This means that emotional service animals can come in all shapes and sizes, which is great news for the people who rely on them as different people connect more easily with different animals, and there's never a one-size-fits-all solution when it comes to mental health support.
Do Support Animals Require Any Special Training?
Unlike service animals, ESAs do not require any specialized training. The benefit they offer you comes from their ability to connect with you emotionally, not from specific skills or behaviors they've been trained to perform. The fact that so many mental health professionals continue to endorse their use is a testament to just how effective the support from this natural bond can be.
With that being said, you may want to provide them with some more generalized training. This can help ensure that they behave well in public and are easy to care for in the long term. Depending on their personality, training your support animal yourself may also be a nice way to spend time together and could bring the two of you even closer.
Can I Take My Emotional Support Animal Anywhere?
Although having an ESA letter will protect you from discrimination and grant you some additional rights, it doesn't mean you can take your animal anywhere. The protections offered by ESA letters primarily relate to housing and travel and do not cover all public places. This means that businesses with a no-pets-allowed policy may legally refuse you entry with your service animal.
The level of access you and your companion have to places such as university campuses is ever increasing though, with legal challenges forcing institutions to respect the necessity and status of emotional support animals and the reality of mental and emotional disabilities. Many businesses will also voluntarily allow you to enter with your support animal, even when they aren't legally obliged to do so.
Can I Have More Than One Emotional Support Animal?
Nothing is stopping you from having more than one ESA, and no law limits the number of emotional support animals you may have. If the mental health professional issuing your ESA letters agree that multiple animals improve your well-being and that their presence provides a positive impact on your mental and emotional health conditions, they can provide a legitimate ESA letter covering all of them. It's best to make them aware of this early on, however, so that they can ensure that their assessment and any subsequent letter or letters cover all of your emotional support animals.
What's the Difference Between an Emotional Support Animal and a Service Animal Like a Psychiatric Service Dog?
Although support animals and service animals such as psychiatric service dogs can fill a similar role in the lives of their owners, they differ in a few key ways. Firstly, emotional service animals don't require any special training, relying on the impact that their presence has on their owner and their natural ability to recognize their emotions. Service animals, however, need to have specialized training so that they can perform specific tasks associated with their owner's physical or mental health disability.
Those with service animals also enjoy more protections under the Americans with Disabilities Act and the Air Carrier Access Act. These acts allow those with service animals to take them with them in the cabin when flying as well as into shops, restaurants, and other businesses, provided that the animal is properly trained and can be reasonably accommodated.
If you believe you are highly reliant on your animal and would significantly benefit from them being trained and recognized as a service animal, many of the best ESA letter services, including those on our list, can also assist with service animal training and certification.
What Should I Expect From My Consultation?
The consultation that confirms your eligibility for an ESA letter may feel slightly daunting, but it's important to remember that the therapist is on your side and wants to do what they can to make things easy and comfortable for you. They will discuss your mental and emotional needs and how you feel an ESA will benefit you and, in some cases, may provide guidance as to how to get the most out of your relationship with your animal and other things you can do to improve your well-being.
The therapists giving these consultations are licensed mental health professionals with all of the experience needed to treat you in a professional, respectful, and understanding manner, and want you to get the support you need. All you need to do is be honest with them about how much your pet helps you mentally and emotionally.
How Can I Get the Most From My Relationship With My Emotional Support Animal?
Every person and every animal is different, so there's no right way for you to spend time with your animal friend. As long as their companionship provides you with comfort, supports you emotionally, and helps you manage any mental or emotional disability, things are going well.
However, since the benefits of having an ESA often derive from your emotional bond with your pet, you'll likely want to spend a significant amount of time in each other's company if you can. This will help you feel even closer and likely lead to you feeling more supported. You should also continue to engage in good self-care and follow the recommendations of any mental health professionals you may be seeing.
Will I Need To Renew My ESA Letters?
Yes, ESA letters need to be renewed on an annual basis as they can only be issued for up to a year. Fortunately, once you've found the right ESA letter service for you, they will be able to provide you with ongoing support to ensure that your ESA letters stay up to date and you have everything you need to fully benefit from your emotional support animal.
Why Does It Take Longer To Get an Emotional Support Animal Letter in California?
Amendments to California Law AB-468 in 2022 introduced the requirement that licensed mental health professionals must have engaged professionally with an individual for at least 30 days before they can write an ESA letter for them. It also requires providers to explicitly state that the letter is for an emotional support animal, rather than a service animal, and to ensure that the pet's owner understands the difference between the two.
This means that if you're based in California, it will take you around a month before you're able to obtain an ESA letter. Whilst this delay is unfortunate, you will still be able to get an ESA letter and the protection it offers should you need it. There's no way for a provider to get around this time limit and still issue a valid ESA letter, but good providers will make sure that you get your ESA letter as fast as legally possible.
What Conditions Could an Emotional Support Animal Help Me With?
Emotional support animals can ease the symptoms of people with many different mental health disorders including anxiety, depression, bipolar disorder, and post-traumatic stress disorder. Those with other mental or emotional conditions such as phobias can also benefit from ESAs.
Which Laws Are Relevant for People With Emotional Support Animals?
Likely the most relevant law for those with an ESA is the Fair Housing Act. The Fair Housing Act ensures discrimination-free access to housing, allowing those who rely on their support animal to live with them worry-free and not be subject to an additional pet deposit or pet rent, regardless of their landlord's usual policies.
Other laws such as the Americans with Disabilities Act (ADA) and the Air Carrier Access Act (ACAA) primarily benefit those whose pets have been designated as service animals rather than ESAs. Many providers will still provide similar accommodations to those with ESAs, however, and experts are currently advocating for them to be recognized as service animals under the ADA.
Can I Have an Emotional Support Animal Without Getting an ESA Letter?
While an animal can provide you with emotional support without this being acknowledged in an ESA letter, and even without you being diagnosed with a mental health condition, it will not be recognized as an emotional support animal.
It's only with an ESA letter that your pet will be elevated to support animal status, meaning that your ability to have them with you will be protected by law. For this reason, we would recommend that anyone who relies on their animal companion for mental and emotional support strongly considers taking the next step and having this support acknowledged in a letter from a licensed mental health professional.
Conclusion
We're sure you now have an even greater appreciation of just how much your pet could help you as an emotional service animal, and why it's so important to have this support recognized in an ESA letter. Whether you're reliant on your pet to get through the day or they simply make everything feel a little easier and more comfortable, you shouldn't let anything get in the way of this, and once you have an emotional support animal letter, you don't have to.
All of the three ESA letter providers we've listed will be able to guide you through the assessment process and provide you with a legitimate ESA letter certified by a licensed mental health professional. With this in hand, you'll be able to confidently access the housing and travel you need, with your trusty animal friend by your side every step of the way.
Related Content
This article has been supplied by Originated Media, a paid advertiser. The editorial staff of Chicago magazine had no role in this post's preparation.